Parking management is often the secret key to success for businesses with a physical location.
Importance of Parking
If you are in the restaurant or retail business, you know that the number one rule to success is location. And the number two rule? Parking. Why? Because both location and parking spell convenience and speed for the consumer.
A good location with poor or crowded parking makes it extremely difficult for your customers to visit you. A so-so location with really good, ample parking can often generate more sales than a good location site with poor parking. No one wants to waste time circling around a parking lot, after all.
Location is something you cannot change, unless you want to break the lease and invest money into setting up a new shop. But parking is something you actually can change.
Parking Management Needed
Parking enforcement is the process of ensuring that visitors are rightly abiding to the rules and regulations of the parking lot.
When we put up a "2 Hour Parking Limit" sign, this is not a suggestion. It is a command. However, our customers (and those who utilize the space) do not view it as a commandment.
The problem is that there's no teeth behind our parking sign–even if we state that there's a possibility of towing the vehicle. We are not able to effectively enforce the parking policy because we fundamentally are not able to track how long a specific vehicle has parked in the lot. And our visitors, as smart as they are, know that this is true.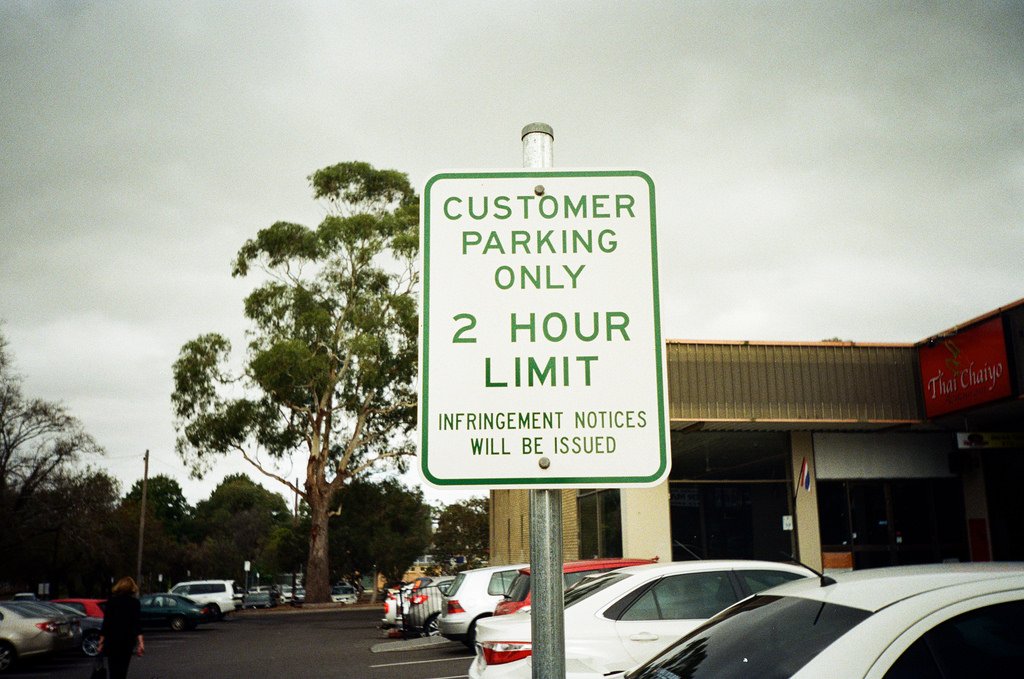 Is this 2 Hour Parking Limit a suggestion or a command?
Parking Enforcement Officers, Please Help!
Some establishments go as far as hiring a Parking Enforcement Officer to come and patrol the parking lot. Essentially, Parking Enforcement Officers make sure that people follow the parking rules and regulations.
When a Parking Enforcement Officer notices a parking violation, he issues and places a ticket on the vehicle windshield. This way the car owner knows he can expect a fine. After writing the ticket, the Parking Enforcement Officer files the ticket to the local authority and a few weeks later the driver receives the official fine by mail.
This approach is littered with problems:
It's extremely expensive to hire a person to walk around the parking lot.
Identifying a parking violation is not easy and requires a lot of careful note-taking and time.
No Parking Enforcement Officer will be able to dedicate the amount of time needed to oversee a parking lot.
Even if you're able to flag a few violators today, you'll never know what tomorrow will bring. in size and scope as well as those who cover international markets to evaluate.
Parking Management Software to Save the Day
There is a new remedy to the age-old parking problem: Parking Management Software!
As companies are utilizing more and more Artificial Intelligence to tackle business problems, it makes sense that Parking Management Software is able to address today's parking challenges.
The solution is quite straight-forward:
Place cameras to capture vehicles entering and exiting the parking lot.
When a vehicle is detected, the software utilizes advanced License Plate Recognition algorithms to decode the vehicle's license plate.
Thereafter, data–such as a photo of the vehicle, license plate, and time-stamp–are stored in the cloud and accessible via a secure web-browser.
Industry-leading Parking Management Software providers, such as ParkPow, let you set specific rules to reflect your parking area's policies. For example, an email would be sent to the property manager when a vehicle is in the lot for more than 2 hours. If the vehicle is still there after 3 hours, then a text message would be sent to the towing company with the vehicle's license plate and photo.
Since some of these violators may be our customers, we can take the high road and be less aggressive with the parking violation. Solutions from ParkPow and perhaps others let you identify repeat offenders–those who regularly abuse our parking policies. For the first-time offender, we can place a friendly warning letter under the vehicle windshield wiper. And for the repeat offender, it's time to call the tow truck!
Parking Enforcement Officers are thankful that their time can now be put to use for more higher-value work. When they receive a text message of a parking violation, they can take action with confidence knowing that there's proof (photo of the vehicle, license plate and time-stamp) of the violation.
Together, property managers, Parking Management Software providers and Parking Enforcement Officers can help put an end to vicious, disruptive parking violations for the benefit of both businesses and our customers.